Elementree Livity Project
with Roots of a Rebellion, Quasi Kings
Top Cats
All Ages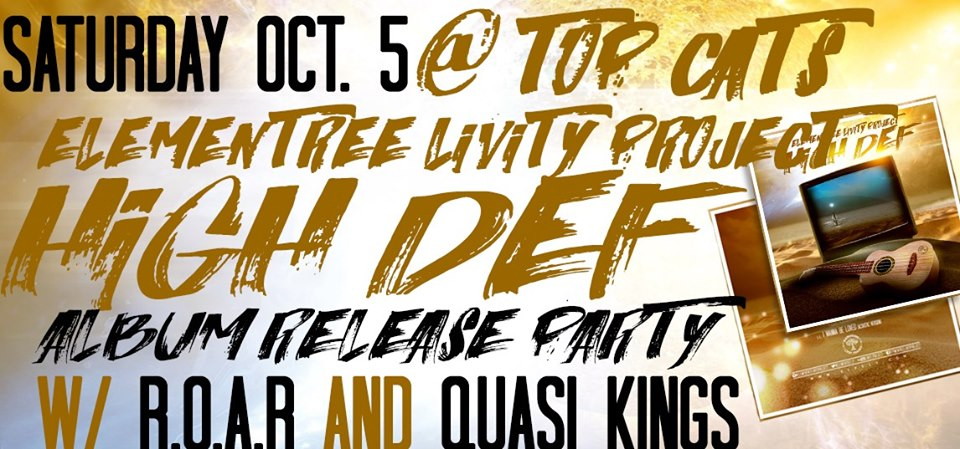 Additional Info
SATURDAY OCTOBER 5TH - ELEMENTREE LIVITY PROJECT, ROOTS OF A REBELLION & THE QUASI KINGS @ TOP CATS - CINCINNATI OH.
ELEMENTREE LIVITY PROJECT RELEASES DEBUT EP 'HIGH DEF' PRODUCED BY MICHAEL GOLDWASSER OF EASY STAR RECORDS!!!
DOORS OPEN @ 8PM / MUSIC @ 9PM
WE WILL HAVE HARD COPIES OF THE ALBUM AVAILABLE & LIMITED EDITION ALBUM MERCHANDISE @ THE SHOW!
-----------------------------------------------------------
ELEMENTREE LIVITY PROJECT
Elementree Livity Project's first major release 'High Def' sets sail in October of 2019. A full-length, accurate representation of the bands sonic spectrum. The versatility of the album spans from Classic Roots Reggae inspired 'You're Not Ready' feat. Rankin Joe all the way to the rock-heavy and reggae tinged 'Rising'. Hip hop vibes peek their way into the album in the haunting 'I'm Tryin' feat. Jesse Lee of top New York reggae band Oogee Wawa and the soaring vocals on the single 'I Wanna Be Loved' bring the marketable sound of the band to the forefront.
Elementree Livity Project brings a fresh perspective on the Rock/Reggae sound while holding onto an authenticity that is often missed in the genre. You can hear the inspirations of classic reggae artists such as Steel Pulse, Barrington Levy and Black Uhuru blended with the newer influences of Singjay dancehall and reggae. With the firm Jamaican reggae roots sound and influence, Elementree Livity Project is able to fit like a glove in the new and upcoming US Rock/Reggae scene along with artists such as Rebelution, Slightly Stooped, Stick Figure and many more...
ROOTS OF A REBELLION
Roots of A Rebellion are a jam band from Nashville, TN playing heavy Reggae-Rock-Dub music for the soul. The band is known for their dynamic live performances showing their progressive sound and energy. Having shared the stage with The Wailers, Rebelution, 311, Slightly Stoopid, moe., North Mississippi Allstars, SOJA, Nahko and Medicine for the People, and more, Roots of A Rebellion proudly represents another side of Music City.
Their current album, "Shapes of a Soul," released in May 2019 and debuted at #1 on the Billboard Reggae Albums chart. It followed the singles, "Shapes of a Soul," "One Thing," and "I Live in Light." It is their third studio album after their 2016 release, "A Brother's Instinct," which debuted at #4 on the Billboard Reggae Charts.
See all tour dates at:
http://www.rootsofarebellion.com
THE QUASI KINGS
Formed in Columbus, OH in Spring 2016, The Quasi Kings are quickly gaining momentum in the Ohio and Midwest reggae scenes. Their unique blend of roots reggae and modern styles puts an emphasis on songwriting and vocal harmonies and has lead to their opening for the likes of Badfish, Fortunate Youth, Passafire, The Expanders, Third World, GPGD, The Werks, Tropidelic, Zach Deputy and more.
Artists
Elementree Livity Project
Roots of a Rebellion
Quasi Kings